Infographic: 5 Tips to Prevent Falls at Home
You can stay safer at home by following these simple tips.
Each year, more than 1 in 4 older adults fall. Of those falls, 1 in 5 causes serious injury, such as a broken bone, hip fracture or head injury. Slips and falls don't just affect the elderly—anyone is at risk of falling when they can't see where they're going, lose their balance or trip over things in the way.
Although you can't make your home completely fall-proof, here are five simple steps you can take to make it less likely you or someone you love will fall.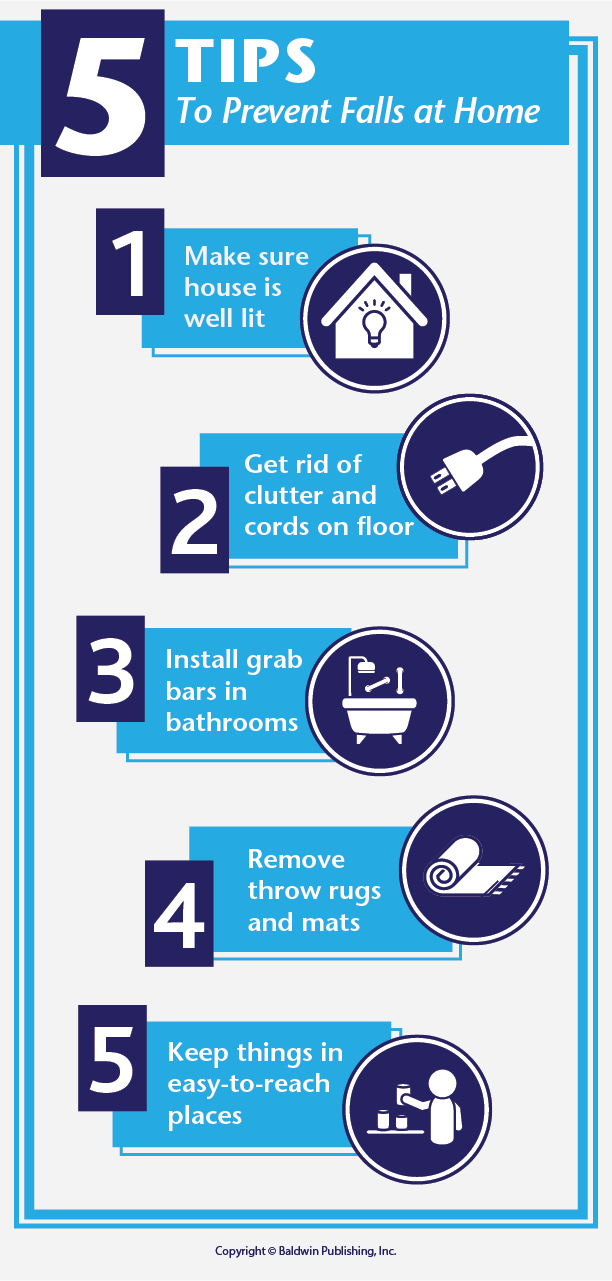 ---
Copyright 2018 © Baldwin Publishing, Inc. All rights reserved.
Health eCooking® is a registered trademark of Baldwin Publishing, Inc. Cook eKitchen™ is a designated trademark of Baldwin Publishing, Inc. Any duplication or distribution of the information contained herein without the express approval of Baldwin Publishing, Inc. is strictly prohibited.
Date Last Reviewed: June 14, 2018
Editorial Review: Andrea Cohen, Editorial Director, Baldwin Publishing, Inc. Contact Editor
Medical Review: Andrew P. Overman, DPT, MS, COMT, CSCS
Learn more about Baldwin Publishing Inc. editorial policy, privacy policy and sponsorship policy.
No information provided by Baldwin Publishing, Inc. in any article is a substitute for medical advice or treatment for any medical condition. Baldwin Publishing, Inc. strongly suggests that you use this information in consultation with your doctor or other health professional. Use or viewing of any Baldwin Publishing, Inc. article signifies your understanding and agreement to the disclaimer and acceptance of these terms of use.